Racing Major Taylor (Roller Racing)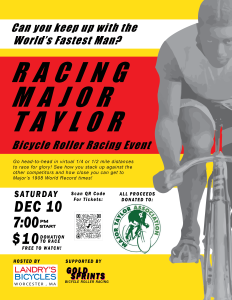 PHOTOS & VIDEOS:
https://www.facebook.com/media/set/?set=a.2374799432667036
Can you keep up with the World's Fastest Man?
Go head-to-head in virtual quarter-mile or half-mile distances in this indoor race for glory. See how you stack up against the other competitors and how close you can get to Major's 1908 world record times.
No roller riding experience is necessary. Front wheel is removed and front fork is attached to a stationary mount, so it's more like riding a trailer. You just pedal, and your progress is tracked on screen.
$10 to race; free for spectators. Proceeds benefit the Major Taylor Association.
Racing takes place indoors at Landry's Bicycles, 10 Jolma Road, Worcester.
Register to race —  or  RSVP to watch (spectator registration is optional but we'd like to know roughly how many people are coming so we can be sure to have enough refreshments) — at https://www.eventbrite.com/e/racing-major-taylor-a-bicycle-roller-racing-event-tickets-466573673417