"Biking While Black" film screening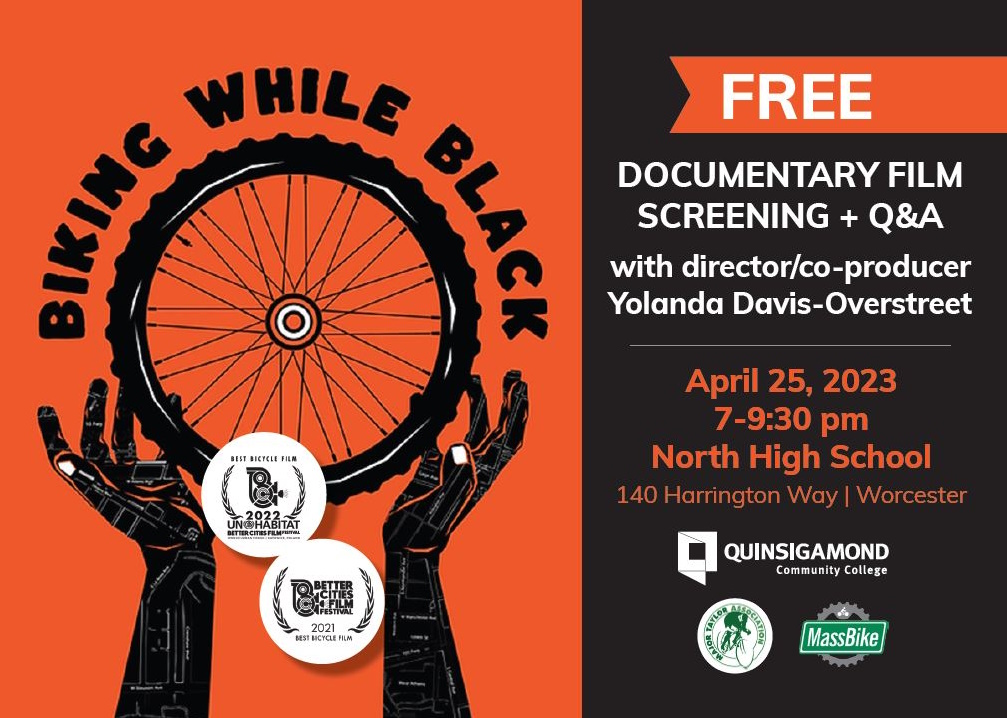 Viewing the state of our streets as a public health crisis that disproportionately affects Black lives, the documentary "Biking While Black" looks at Black cyclists and BIPOC community organizations in Los Angeles who are paving new roads to
tackle myths about bike riding,

improve local conditions,

and celebrate Black joy on two wheels. 
With ideas applicable in other cities and towns, the film explores
inclusion in outdoor activities,
the making of safe streets,
and avenues for mobility rooted in justice and equity.
Running time 40 minutes. The Worcester screening is at 7 p.m. Tuesday, April 25, at North High School, 140 Harrington Way, Worcester, MA.
Q&A/discussion with filmmaker Yolanda Davis-Overstreet will follow the screening.
Admission is free. RSVP at
https://bit.ly/MTA-bikingwhileblack
or
https://www.eventbrite.com/e/film-screening-biking-while-black-tickets-600800900667
The event is sponsored by Quinsigamond Community College and hosted by the Major Taylor Association with support from MassBike and other community partners: 508 Forever Young, Landry's Bicycles, Major Taylor Museum, WalkBike Worcester, Worcester Caribbean American Carnival Association, Worcester Earn-A-Bike, Worcester Majors, Worcester NAACP, and YWCA of Central Mass.