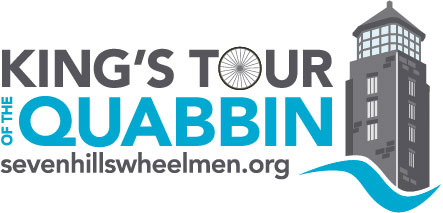 King's Tour of the Quabbin
Bicycle 65, 100 or 125 miles on paved roads around the Quabbin Reservoir, a pristine jewel in the heart of Massachusetts. Not much traffic; plenty of hills.
Limited to 300 riders.
Entry fee is $25 for Seven Hills Wheelmen members, $35 for nonmembers.
Day-of-ride registration costs $10 more.
Online registration closes at 9 p.m. Wednesday, June 8.
Rider packets, including GPS route links and other crucial information, will be emailed to all registrants before ride day.
START TIMES:
7:00 double metric century (125 miles)
8:00 century (100 miles)
9:00 metric century (65 miles)
Quab Cam — webcam view of Quabbin Reservoir from the Visitor Center